Programs
KENPO TRAINING PROGRAM (Children and Adults)
The Shaolin Kenpo system is effective for self defense and is easy to understand for the beginner but offers a depth of material for more advanced students. Our methods of instruction include:
PRIVATE LESSONS:
At United Studios of Self Defense, every student receives thirty minutes of private instruction each week. Private Instruction provides the ultimate in personal training. This focused learning approach insures that each student will get the attention they need to succeed. Each class is tailored to the needs of the student, which allows progress at a much faster rate. Giving each student the private time to work on their troubled areas helps build the students confidence. One of our goals is to team up students in private lessons to maximize their training. It is beneficial to have a good workout partner so the students can help one another when it comes to more advanced principles and applications of techniques. Private Instruction is always scheduled at your convenience.
GROUP LESSONS
In addition, students may attend as many group lessons as they like. Group lessons increase stamina and provide an excellent time to practice skills and techniques with students close to the same age and ability.
With a goal of successful practice and application in mind, each class consists of effective self defense training and drills, plus various exercise and stretching routines.
STUDENT MANUAL
All techniques and material is contained in our Student Manual.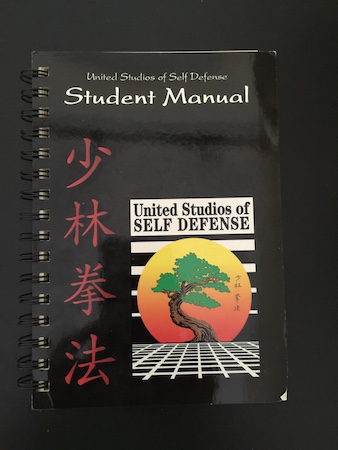 LIFETIME MEMBERSHIP
United Studios of Self Defense has over one-hundred schools in the US. Students who relocate may often find another United Studios location to continue their training.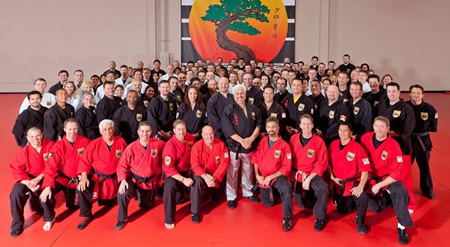 United Studios of Self Defense Instructors with Professor Charles Mattera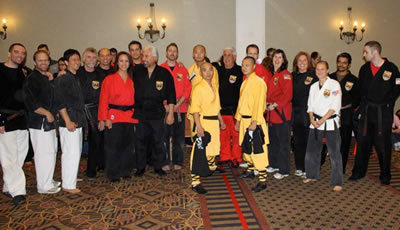 United Studios of Self Defense Instructors with Professor Charles Mattera